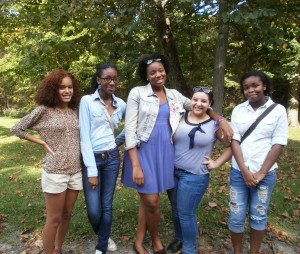 Up to six FM ABC scholars are welcomed into a suburban community with a high-performing high school. The scholars usually start in 9th grade and continue for four years. They live in a historic home near the center of the village of Manlius with three staff members. On school nights everyone eats together in the dining room, followed by two and a half hour study hours supervised by one of the resident advisors. There are group outings and field trips with scholars and staff. In the 2012-2013 school year the girls enjoyed multiple trips to the local malls, Syracuse Stage, movies & tours of local college campuses.
Each scholar has two families in the community that serve as their host families. Scholars visit their host families on Sundays on a rotating basis and share in family activities.
Scholars are encouraged to participate in sports, community service or one of the wide range of clubs or after-school activities available to them.
In the fall of 2013 the FM-ABC house welcomed back Tanaja (sophomore), Alex and Kesi (juniors), and Nellie and Sara our returning seniors. Congratulations to our 2013 graduate! Janai is attending the City College of New York!
Please see FMABC Scholar Handbook 2013-14 for more information regarding what is expected of the scholars. Please use this list of contact information for any questions or concerns: Important Contact Info